1. Documents needed for residence permit extension (current student who's holding a residence permit for study). (For reference only):
(1) Valid, regular passport
(2) Registration Form of Temporary Residence (Please read Appendix)
(3) Introduction Letter for Visa (processed at ISO office temporarily located in International Students Dormitory at the beginning of the semester or Room 106 of ISO during the semester. Also, read Appendix)
(4) One passport-sized photo
(5) Usually, RMB 400-800 (please take it to Shanghai Exit-Entry Administration Bureau as the standard)
2. Before getting Introduction Letter for Visa, you must register at your school. When getting Introduction Letter for Visa, students should take student card (with registration stamp), passport, insurance receipt and offer on-campus room number or off-campus address. The address of a hotel (temporary accommodation) is not acceptable.
3. (1)Exit-Entry Administration Bureau of Shanghai Public Security Bureau
processes your application for visa and residence permit.
Address: 1500 Minsheng Road, Pudong New District, Shanghai.
Service Hours: Monday to Saturday, 9:00 am - 17:00 pm.
Tel: 86-21-28951900
(2)You can also go to the Exit-Entry Administration Office, Yangpu District.
Address: 605 Songhu Road, Yangpu District, Shanghai
Service Hours: Monday to Saturday, 8:30 am - 17:00 pm.
Tel: 86-21-22170246
(3)Other places for application, please refer to https://gaj.sh.gov.cn/crj.
4. If your information in your passport changes (renewed passport), you should renew your visa within ten days of the change.
★ The explanation above is for your reference only. However, please be aware that the regulations are subject to change and you should check with the relevant authorities prior to making arrangements.
Appendix
1、Registration Form of Temporary Residence (on campus)
2、Registration Form of Temporary Residence (off-campus)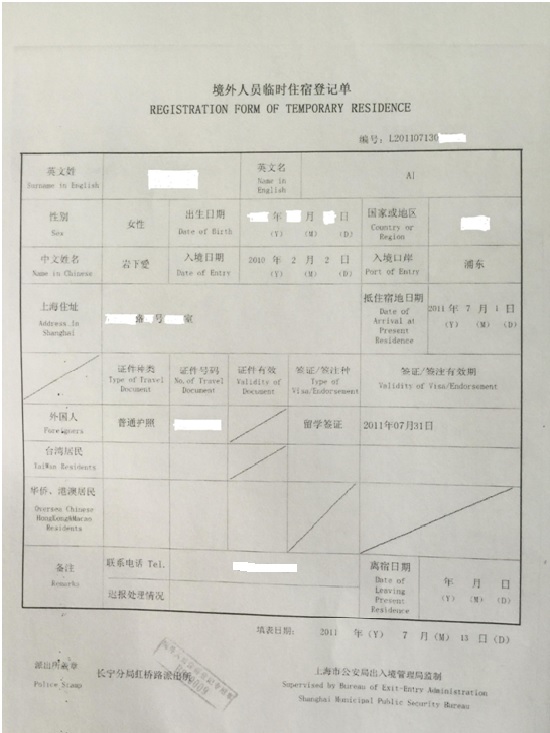 3. Introduction Letter for Visa